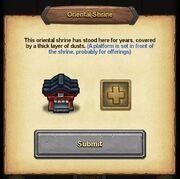 The Oriental Shrine accepts items with a "Far-Eastern" origin. This appears to mean items with origins or historical connections to the area between the Arabian Peninsula and China/Japan.
How it works:
Any item submitted to the shrine disappear
the shrine disappears after you have submitted an item that gives a reward.
Once you have submitted 5 items with rewards (the same item can be given multiple times) in 5 different maze runs, the shrine will no longer appear.
Note: the 5 items limit might be a simplification but the principle is verified: after a few successes, the shrine will never appear anymore.
Items/Equipment that Yields No Reward
Edit
Acrobat's Dart
Air Elemental Crystal
Air Elemental Heart
Ancient Element
Aviation Element
Earth Elemental Crystal
Electric Element
Fire Elemental Crystal
Heritage of the Tamer
Hive
Hook Rope
Magician's Cane
Mechanical Element
Sage's Potion
Stone of the Dragon
Tattered equipment
Water Elemental Heart
Water Spirit Cape
Souls that Yields no Reward 
Edit
this subsection was added as a new project I'm going to undertake in an attempt to expand into new possible rewards giving by the shrine. due to the fact that it accepts any soul, I give it I have theorized that there should be one that has a high pay off and considering that before I started this subsection there was only one soul listed I have high hopes for this to pay off.
there are 117 know lantern souls never minded bow souls and so far only 3 lantern souls and only 1 bow souls have been checked
Complete Mammal's Soul
Complete Mage`s Soul
See also
Edit
Community content is available under
CC-BY-SA
unless otherwise noted.