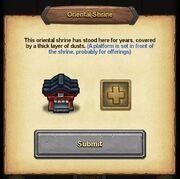 The Oriental Shrine accepts items with an "Far Eastern" origin. This appears to mean items with origins or historical connections to the area between the Arabian Peninsula and China/Japan.
How it works:
Any item submitted to the shrine disappear
the shrine disappear after you have submitted an item that gives a reward.
Once you have submitted 5 items with rewards (the same item can be given multiple times) in 5 different maze runs, the shrine will no longer appear.
Note : the 5 items limit might be a simplification but the principle is verified: after a few successes, the shrine will never appear anymore.
Items Yielding No Reward
Edit
Acrobat's Dart
Air Elemental Crystal
Air Elemental Heart
Ancient Element
Aviation Element
Blackball Eight
Earth Elemental Crystal
Electric Element
Fire Elemental Crystal
Heritage of the Tamer
Hook Rope
Magician's Cane
Mechanical Element
Sage's Potion
Stone of the Dragon
Tattered equipment
Water Elemental Heart
Water Spirit Cape
See also
Edit
Community content is available under
CC-BY-SA
unless otherwise noted.