Oriental Paper Cutting
Type: Summons
This colorful magic paper-cutting exhibits a strong oriental art style. The design of the paper-cutting is a hollow oriental dog, very lifelike.
Use: summon Howling (valid in Maze)

Howling abilities:

Gnaw - 30% chance to deal double damages and additional Blood Leech effect while attacking (Recover 100% of the damage dealt to HP)
Agile - Possess high Dodge (30%)
Recon - Detect the location of the Key
Howling inherits 100% of your HP and attack when summoned (buffs count)

Source(s):
Carried by Three-eye King
In-maze appearance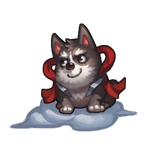 Notes
Unlike other summons that start with the gumball, such as Sorcerer's Aze Cat or Puppeteer's puppet, Howling does not revert to item form on death. Once killed, it is gone for the remainder of the run.
When summoned, Howling inherits stats from the main gumball. A common strategy for maximizing Howling's stats:

Bring a Werewolf Potion into the maze
Upon entering the floor where Howling will be summoned (1F on short runs or events) use all three charges of the potion.
Stretch out rounds as much as possible - manually flip all tiles, use scrolls or consumables, etc. - to get as much of the potion's effect as possible.
If available, cast Electrostatic Field followed by either Bless or Blade of Ruin
Use Oriental Paper Cutting.
Community content is available under
CC-BY-SA
unless otherwise noted.