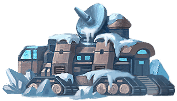 Primary Information Missions
Edit
Name
Type
Min Level

Cost

Rewards
Exploration Intelligence
Abandoned Jail 
1
300
Search Remains:


Recycle:

60  + 2x Small Energy Storage Device


Dismantle Device:

Broken Device
1
300
Energy Extraction:


Repairing Device:


Dismantle Device:

Damaged Instrument
1
300
Investigate


Repair:

Demon Fortress
1
300
Investigate the fort

150  + 2x Small Storage Devices


Destroy the Fortress:

Demon Gate
1
300
Energy Extraction


Go through the Demon Gate


Destroy the Demon Gate

Haunted House
1
300
Go in the Haunted House


Wipeout ghosts:

Ice Castle
1
300
Pray


Sneak into the castle:

Land of War
1
300
Clean the battlefield

60x , 2x Any Small Storage Device


Sacrifice the Dead

Mech Smelter
1
300
Smelting Accelerator:


Smelting Device:


Smelting Wonder Material:

Power Plant
1
300
Produce Gas


Produce Uranium Ore


Produce Electricity

Crashed Satellite
2
350
Dismantle


Investigate

Forgotten Device
2
300
Contact with the trader


Study


Demolish Equipment

Army Base
3
400

Purchase Supplies


Sneak into the base
-->Success :


-->Fail:

Technology Research Center
3
350
Pay 5k  and pick an option:

Exchange for biology technology


Exchange for space technology


Exchange for fleet technology

Evil Altar
4
450
Activate Altar


Destroy the Altar (req. 1000+ Fire)

Underground Warehouse
4
400
Threaten

3x Small storage device or 3x Storage Device


Sneak in


Camouflage

Pool of Blood
5
500
Participate Ceremony

8x Common Wonder material + 10% chance of 2x Rare Wonder Material


Destruction Rite

Fight Chaos Element 960 874 930 993 /8M for

Mech Platform
5
500
Spend 5x Battery Pack and choose:

Activate Module A


Activate Module B


Activate Module C:

Ancient Shrine
6
550
Pray to God of Time


Pray to God of Space


Pray to God of Fate

Biological Research Base
6
550
Presenting clone (requires level 5 clones)


Grab scientific achievements

Blue Crystal
7
600
Analyze Crystal


Touch

3 small energy storage devices + 2 energy storage devices.


Cut Crystal

Fight Spirit of Holyfall (1468 1543 1364 1325 /12.4M)

3x Energy Storage Devices + 1x Space Wonder Material

Damaged Satellite
7
600
Dismantle


Repair

Magic Academy
7
600
Magic DebateFight 1006 1098 1165 1054 /9M for


Communicate Spell


Share Magic

Mushroom Garden
7
600
Pick Mushroom

260 


Destroy Mushroom Garden

Fight 921 886 978 1015 /7.5M for

Quicksand Trap
7
600
InvestigateEither no Battle:


Or fight 912 803 950 888 /5,608,675 for


Bombing

Strange Tower
7
600
Get in from Front Door


Get in from Back Door


Get in from Side Door

Big Tree
8
650
Rest


Pick Fruit


Cut

Fight 1368 1243 1264 1325 /13M

Damaged Evolution Chamber
8
650
Destroy Eggs

280 


Gene Extraction

Military Training Base
8
650
Challenge Astral Officer

Fight 1364 1306 1205 1275 /10.8M*


Challenge Astral Lieutenant

Fight 1468 1543 1364 1325 /12.4M


Challenge Astral Colonel

Fight 1672 1756 1574 1558 /15.54M

2 of each normal energy storage device

Prayer Room
8
650
Read the Words at the Statue Base

8x small energy storage device + chance of 1x energy storage device (30%)


Chant the Prayer in Parchment

Abnormal Hive
9
700
Observation


Assault

Fight 1,306 1,398 1,265 1,354 /12,034,756

Giant Radar
9
700
Search


Transform 


Demolish

Sleeping Mixture
9
700
Steal


Assault

Fight 1,502 1,577 1,487 1,544 /15,540,000

Tree of Ancestor
9
700
Power


Knowledge


Life

10x Small Energy Storage Device

Deep Sea Palace
10
750
Worship


Communicate

Flesh Altar
10
750
Sacrifice Higher Clone


Sacrifice Super Clone
Sacrifices a random super clone from current fleet investigating Flesh Altar

1x Rare Space Wonder Material + space coins depending on clone rank + 10% chance of Regression Sandglass + Flesh Puppet robot (1st time only)

Flesh Puppet: Energy +30000, Armor +2, Luck +2, Speed +1, Decrease the damage taken from Combo Skill by +1%
Rank IV: 4050 


Burn the Altar

Goblin Tribe
10
750
Assist Construction


Trade


Assault

Order Clock
10
750
Clockwise

Sometimes: Current Eden research time decreased by 4 hours
Sometimes: gain resources equal to 1 hour's production (forced to occur if there is no ongoing research)


Anti-clockwise

Another World Passage
11
800
Destroy the Passage


Activate the Passage

Fight Void Hand : 1,296 1,349 1,279 1,259 /11,000,000

Snuggly Duckling
11
800
Have a Drink

Spend 50k 


Roulette

Win: 680  + 2 Gas Storage Device + 3  (limited to 3x)
Consolation: 350  + 5 Small storage device


Bilk

Fight Drunkard : 1,385 1,283 1,376 1,332 /13,500,00

Ravagers' Base
13
900
Pay a visit


Sneak In

Dark Cave
13
900
Help Dwarfs


Help Trogs


Steal Treasure

Injured Overlord
13
900
Rescue


Kill

Energy Refiner
13
900
Refine Gas

Spend 30k 


Refine Uranium Ore

Spend 30k 


Refine Electricity

Spend 30k 

Beast Altar
14
950
Participate Ceremony


Take the offerings

Stronghold
14
950
Pay a visit


Sneak In


Assault

Fight Mech Airship 1,638 1,555 1,573 1,657 /15,368,000

Moving Magical Store
14
950
Purchase Propellant


Frighten the Elder


Assault

Monster's Remains
14
950
Investigate


Study

Top Secret Explore
Top Secret Explore
See: Top Secret Explore for details.
Space Currencies Note: For the sake of brevity, many of the space currency amounts are expressed in Sabnocks (

) which is the currency of M01. It must be understood that currency received in truth is that of the sector you are in and that the amount received is the one stated in the table in Sabnocks multiplied by a conversion factor that depends solely on your sector (see #Space Currency Conversion).
Missions Occurrences RateEdit
Any monster mission is slightly less frequent than an exploration mission of the same rarity. As there are also less unique monster missions than explorations (at least at low levels), we end up with way fewer monster missions being offered on average.
When available, any given rare mission is about twice less likely than any given common mission.
Any given super rare mission is 5 to 10 times less likely than any given common mission. The most likely super rare missions are the ones that have to be obtained many times to get the complete special rewards.
Space Currency Conversion
Edit
It is assumed that for all sources of space coins, there is a conversion factor depending on the sector.
Community content is available under
CC-BY-SA
unless otherwise noted.