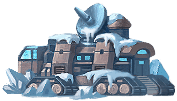 In each Space field you may gather Intelligence Pieces by expropriating planets.
The Kars Camp can always be found on the X planet. Here you may exchange intelligence for information.
When you reach sufficient standing you may unlock additional intelligence levels, which will provide you with a wider choice of options. Note: Each of the 3 sections may use the free "daily reset" individually.
Name
Type
Min Level
Rewards
Businessman
1
Cost: 800
See: Untrackable Businessman for details
Combat Intelligence
Combat
1-x
See: Kars Camp Combat Intelligence for details.
Exploration Intelligence
Explore
1-x
See: Kars Camp Exploration Intelligence for details.
Top Secret Explore
Top Secret Explore
1-x
See: Top Secret Explore for details.

If activated in a sector, it has to be completed in the same sector.