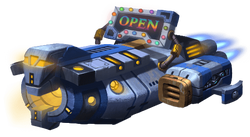 Once Space is unlocked, every Friday, the Cosmic Trader will show up in whichever sector you are currently in. It will leave after three days.
You can trade gumball frags, Eden resources, and $$ to purchase items from the shop.
The space currency you can purchase is locked to whichever space sector you are in when the Cosmic Trader shows up.
LTD QTY (Items)
[
]
Goods ($$$)
[
]
You can purchase Packs of Eden Accelerators from this tab for real currency. You will gain the base reward, plus a bonus (from 0-400%). Every hour the bonus will go up if that package hasn't been purchased much, and go down if it has been purchased a lot. This is based on the entire server's purchase activity.
After every third purchase, you gain bonus Gems and Spending rewards based off of purchased packages.
| Cost | Base Reward |
| --- | --- |
| $8.99 | 20 Eden Accelerator (60m) |
| $17.99 | 40 Eden Accelerator (60m) |
| $59.99 | 20 Eden Accelerator (8h) |
Package (Global purchase rewards)
[
]
Whenever anyone on the server purchases an Accelerator pack from the second tab, the credit counter increases by 100/200/700, depending on pack size. For every 5000 credits, everyone with Eden activated (aka - In space) receives a random Reward Package that has to be collected from this tab. The higher ranks of rewards are rarer and 5-star will show up on the Trader Log button for all to see if you get one.
You can only hold 100 Reward Packages, and there are currently little reason to stockpile them.
| Reward | Rank |
| --- | --- |
| 1× Space Transitioner | |
| 3× Small Shield Generator | |
| 1× Advanced Propellant | |
| 30  | |
| 300,000  | |
| 30,000  | |
| 600  | |
| 30,000 Random Eden Resource | |
| 6× Random Accelerator (60m) | |
| 1× Small Shield Generator | |
| 1× Primary Propellant | |
| 10  | |
| 10,000  | |
| 10,000  | |
| 200  | |
| 10,000 Random Eden Resource | |
| 2× Random Accelerator (60m) | |
| 5  | |
| 50,000  | |
| 5,000  | |
| 100  | |
| 5k Random Eden Resource | |
| 1× Random Accelerator (60m) | |
| 2  | |
| 20,000  | |
| 2000  | |
| 40  | |
| 2,000× Random Eden Resource | |
| 1× Random Accelerator (30m) | |
| 1  | |
| 10,000  | |
| 1,000  | |
| 20  | |
| 1,000× Random Eden Resource | |
| 1× Random Accelerator (15m) | |